MOVE is a UK based charity expanding the use of the MOVE Program throughout Europe,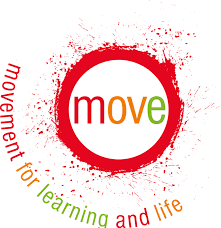 bringing opportunities for mobility and independence to those with severe physical disabilities and/or complex needs.
The MOVE Partnership works with Local Authorities, schools and organisations to enable disabled individuals to reach their full potential opening the world around them.
At Alfreton Park we have been delivering the MOVE program for many years. We have a wide range of staff trained as MOVE practitioners and four trainers.
We select pupils for the MOVE program who have complex physical needs of various ages and cognitive capabilities. Working on the four areas of MOVE sitting, standing, walking and transitions between by following the six stages.
Alfreton Park strongly believe that all pupils have the ability to achieve their full potential and along with the MOVE philosophy – Movement is the foundation for learning.
In order for MOVE to take place successfully a whole team approach is needed.
Members of the team consist of the pupil, family, school, physiotherapists, occupational therapists, MOVE team, respite care and anyone else that the pupil or family would like to include. The list is not exhaustive it can include anyone who has a relationship with the pupil/ family.
The Move leaders, lead trainers and coordinators at Alfreton Park are Marie McCuaig, Donna Allsop, Christine Frost & Tracy Hobson
If you need any information on MOVE please contact us on
01773 483330
Visit The MOVE Partnership for more in-depth knowledge into the program: